---
Had a great time at BlogHer today. Here are the pictures that I took. You'll see about thirty pictures in this looplet. To see all 113 pictures, click on the looplet. To share this loop with other people, send them this URL:
http://invite.filmloop.com/x?5-FjvzUuJRGnBfajNam41rL8GgqFlIiP
If you see yourself in the loop (or can identify people), please send me the frame number and the blog address, and I'll link the picture to the blog. The frame of the pictures that are linked turns blue when you mouse over it. If it turns yellow, then the picture simply zooms.
Also, if you were at BlogHer and want to add pictures to the loop, just drag and drop them in.
Note: the linking and adding-picture functionality are available in the full loop, not the looplet that you see in my blog. You get the full loop by clicking on the looplet.
---
---
A few of my favorites: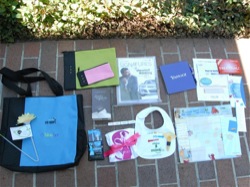 This is everything that attendees got in the conference bag. It included something I've never gotten in conference bag before (see next picture).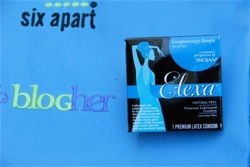 Yup, a condom…although I guess I've never gotten a bib too.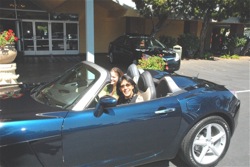 Saturn enabled attendees to test drive its cars. Kudos to Saturn for doing this.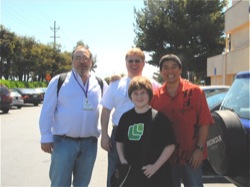 This is three percent of the Technorati 100: Dave Winer, Robert Scoble, and yours truly. I don't know who the teenager is. If he has a blog, this may be four percent of the Technorati 100.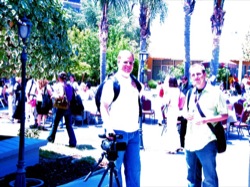 Another picture of Robert Scoble—this time with the new Microsoft point-and-shoot, pocket-size digital video camera with color adjustment software built in. Rumor has it this was his severance package.
---