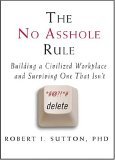 Bob Sutton and the mavens at Electric Pulp have created the ARSE (Asshole Rating Self Exam) to help people to determine if they are assholes. This is an offshoot from Bob's book, The No Asshole Rule: Building a Civilized Workplace and Surviving One That Isn't
, which I reviewed at the end of October.
I'm sure that none of you need to take this test, but you might know someone who does. :-)
On a related topic, Bob told me about a company called SuccessFactors. It makes performance and talent management
software to automate performance reviews across global organizations and create visibility into performance data across the organization. This helps its customers determine how to find, promote, and pay people as well as how to manage succession planning.
The company is a no-asshole zone. It requires employees to agree to sign this document:
---
Rules of Engagement
I will be passionate—about SuccessFactors' mission, about my work. I will love what we do for companies and employees everywhere.

I will demonstrate respect for the individual; I will be nice and listen to others, and respect myself. I will act with integrity and professionalism.

I will do what it takes to get the job done, no matter what it takes, but within legal and ethical boundaries.

I know that this is a company, not a charity. I will not waste money—I will question every cost.

I will present an exhaustive list of solutions to problems—and suggest actionable recommendations.

I will help my colleagues and recognize the team when we win. I will never leave them behind when we lose.

I will constantly improve Kaizen! I will approach every day as an opportunity to do a better job, admitting to and learning from my mistakes.

I will selflessly pursue customer success.

I will support the culture of meritocracy and pay for performance.

I will focus on results and winning—scoring points, not just gaining yardage.

I will be transparent. I will communicate clearly and be brutally honest, even when it's difficult, because I trust my colleagues.

I will always be in sales and drive customer satisfaction.

I will have fun at work and approach my work with enthusiasm.

I will be a good person to work with—I will not be an asshole.
I agree to live these values. If my colleagues fail to live up to any of these rules, I will speak up and will help them correct; in turn, I will be open to constructive criticism from my colleagues should I fail to live by these values. I understand that my performance will be judged in part by how well I demonstrate these values in my daily work.
---
I hope you pass the 'hole-in-oscopy! If you don't, be sure to get the book.
Question: How many bosses does it take to screw in a light bulb?

Answer: One. He holds up the light bulb and expects the universe to revolve around him.

---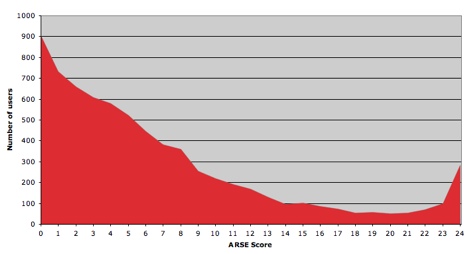 This is the distribution of ARSE scores of people who took the test. Clearly, most of my readers either aren't assholes—or don't believe they are assholes. However, there's a niche (orifice?) to fill in asshole tests: Helping people determine if they work for an asshole.
At a basic level, this determination is very easy: Is your boss rude? Asshole bosses keep people waiting; they yell and scream at people; and they are demeaning. They think they can get away with this because, largely, they have gotten away with this since society tolerates bull shiitake from the rich and famous.
I digress, but I've often wondered which came first: Was the person always an asshole or did accomplishing something great (probably by luck) mean that people would tolerate bull-shiitake behavior? One thing is for sure: not all assholes do great things, so there's no causal relationship. :-)
Thinks that the rules are different for him For example, a parking space for handicapped people is really for handicapped people plus him because his time is so valuable that he can't walk fifty additional feet. Or, the carpool lane is for cars with multiple people, hybrids, and her because she's late for a meeting.

Doesn't understand the difference between a position making a person and a person making a position. The vice-president of acquisitions for a big media company is a big deal, but all her power, and therefore the ability to act like an asshole, evaporates without this title. Assholes usually don't understand that their current position affords them temporary privileges.

Requires "handlers." This means a personal assistant, appointments secretary/lover, public relations flunkie, and chauffeur. It's funny but if an asshole didn't have the position/money/status, he would probably be able to answer the phone, make appointments, talk to the press, and drive himself.

Requires the fulfillment of special requests in order to be happy/productive/efficient. For example, she needs a special brand of spring water from the south of France bottled by chanting monks when she's making a speech. This type of actions represent flexing for the sake of flexing—not because any of this crap is necessary.

Relates to people primarily in terms of what they can do for him. In other words, "good" people can do a lot for him. "Lousy" people aren't useful. The way a lousy person becomes a good person is by showing that he can help your boss in some way.

Judges people by her personal values, not the employees' or society's values. Assholes judge people according to only what they think is important. For example, a boss may value only professional accomplishments, so someone who is "merely" a mom or dad with a focus on a family is therefore inferior.

Judges employees' results and his intentions. A boss never comes up short when he juxtaposes his intentions ("I intended to do your quarterly review") versus an employee's results ("You didn't finish the software on time"). Instead, a boss should judge his results against his employees' results and never mix results and intentions.

Asks you to do something that he wouldn't do. This is a good, all-purpose test. Does your boss ask you to fly coach while she flies first class? Does she ask you to work weekends while he's off at a hockey tournament? I'm all for using boss time effectively (for example, not making her drop off a package at Federal Express), but were it not that your boss could be doing something more valuable for the company, would she do what she's asking you to do?

Calls employees at home or on the weekends. Rarely, as in once per year, this is okay, but any more often and your boss is certifiable. His happiness is not your problem 24 x 7. You are entitled to your personal time and space because slavery was abolished a long time ago in America.

Believes that the world is out to get her when faced with criticism or even omission. For example, bloggers don't write about her because they are all jealous of her. Frankly, it's more likely that he's not worth writing about than the blogosphere is colluding against him. This boss needs to learn that "it's no always about her."

Slows down or halts your career progress. One can forgive or ignore the previous nine issues, but this one is by far the worst thing an asshole boss can do. Usually it's a matter of convenience: "How can you leave me? I need you." For doing this, a boss should go into the anals (sic) of asshole-dom. God didn't put you on this earth to make your boss's life better, so don't hesitate to abandon a boss who holds you back.
You may be concerned that only you think your boss is an asshole. For this issue I offer the "Kawasaki Theory of Perfect Information About Assholes." It goes like this: If you think your boss is an asshole, most likely everyone else does too. It's seldom true that you think someone is an asshole, and everyone else thinks he's great.