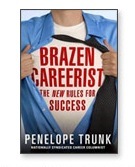 Any article that starts off by advising you to tell potential employees that working at your company is a stepping stone to great jobs in other companies is okay by me. Penelope Trunk does this in "Memo to Human Resources: New Ways to Get Great Candidates." Her recommendations include:
Tell people where they'll go next. No one works at one company forever, so if you can show how a candidate can get ready for a career leap, you'll make your company attractive.
Use your public relations team to prop up the manager. By this Penelope means that you should advertise that the job reports to a cool/great/influential manager. (Hopefully, this is true.)
Get some respect for speciality recruiters. Good employees develop loyalty to recruiters. These recruiters place the same candidate in ever better jobs. Ergo, make nice with recruiters.
Advertise in niche communities. Here's an example: Want to catch women as they return to the workplace after child raising? Duh, advertise in mommy blogs via Blogher.
Leverage social media. There's no doubt in my mind, for example, that you can recruit using Twitter. You can do a lot with 140 characters if you know what you're doing. If you want a quick introduction to the best of Twitter, click here. Just being on social media sites says something about your company.
If you're having problems getting great candidates, be sure to read Penelope's counterintuitive ideas before you conduct the next interview. Remember: recruiting is one of the purest forms of evangelism because you are truly "bringing the good news" about working at a company.