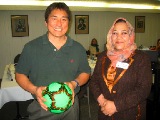 What's the most inspiring story of entrepreneurship that you've heard in 2006? My answer does not involve two guys in a garage who sell their company to Google for $1.6 billion. No way…my answer is a woman who runs a soccer-ball factory in Kabul, Afghanistan.
Her name is Aziza Mohmmand, and she told me what it takes to be a woman entrepreneur in Afghanistan. I met Aziza when I spoke to a group of Afghani women who were attending a class in entrepreneurship at Thunderbird in Glendale, Arizona. (Interestingly, Thunderbird is a former Air Force base.)
Question: What is your life story?

Answer: I was born in Mazar-e-Sharif in 1959 to a liberal family. My father was a prosperous businessman. After high school I went to Kiev, Ukraine and received my masters degree in Social Sciences. Soon after I came back to Kabul in 1983, I was hired by Kabul Institute of Pedagogy as an instructor.

In 1997 I continued my endeavors in education by starting a tutoring business in my home. My courses were offered to boys and girls both in one class, and they were popular across Kabul City especially during the Taliban regime when the girls were deprived of education. Gradually my classes were limited only to girls, and my home was the hope for 385 girls to study from first to ninth grade.

Despite all the restrictions set forth by the Taliban regime and the challenges I faced every day, I continued my work until June, 1998 when the government confiscated girls' schools all across the country and banned young women and girls from social life or participating in any educational institution. Consequently my school was forcibly closed, and I was desperate to find a safe place for my family.

Thus, we moved to Pakistan to find our destiny and the lost hopes of my family. In Haripour, Pakistan I was hired by an American institute called Safe Children and worked as an instructor for three years. When the interim government announced its arrival in Afghanistan, I came back to Kabul and started my nonprofit organization named Moscau, and it was soon registered at the Department of Economy.

In my NGO, I trained more than 2,000 men and women in baking, sewing, leather treatment, ball assembly, carpentry, electrical, blacksmith, plumbing, computer, and English language. In the ball assembly department, I hired 200 trainees who were widows and their family's bread winners. They had no opportunities to work elsewhere.

In order to help them improve, I hired some masters of leather goods to advance these women's skills in ball assembly with my own money, but I soon realized that I couldn't sell my products through my NGO. Therefore, in 2003 I registered the Moscau Leather Goods and Ball Production company with the Investment Committee of Afghanistan.

My intention was to make a difference in the life of women in Afghanistan and keep them busy while they have an income with an active role in the growth and building of the new infrastructure of the country. In 2006, I established a foundation named Women's Handicraft and Ball Assembly Industry and registered it with the Afghanistan Department of Justice.

This foundation serves women of Afghanistan to improve their skills for making leather goods and leather balls. I am the first woman in Afghanistan involved in the leather goods industry. Despite numerous challenges in the beginning, now I feel very successful. I can produce any design in leather goods and return the finished product in any volume on the agreed-upon deadline.

Question: How many people work for your company?

Answer: There are 220 widows who are the bread winners of their families in ball assembly and forty women in the leather goods department. I also work with five masters who specialize in treatment of leather goods.

Question: What kind of products do you sell?

Answer: Different kinds of soccer balls, volleyballs, and handballs. In the leather goods department, I sell suitcases, wallets, purses, and other leather goods products.

Question: How many balls do you sell per year?

Answer: In the first years we didn't sell much, maybe 5,000 or 6,000 per year. In 2006, however, we sold 10,000 soccer balls, more than 3,000 children soccer balls, and 1,000 volleyballs. Our revenue in leather goods department was also good. Right now we have a contract with UNICEF for 173,000 school bags.

Question: How much do your employees make per month?

Answer: Women in the ball assembly department are paid by piece. The skilled masters, however, are paid $150 per month.

Question: Where did you get the money to start the company?

Answer: I started with $5,000 personal savings. I also took loans from friends in the beginning. I was lucky to have $3,000 worth of machinery from my previous business which I could use in the leather goods production.

Question: What's the first thing you're going to tell your family about America?

Answer: The kindness and hospitality of the Americans.

Question: What did you like the most and the least about America?

Answer: What I liked was the discipline in driving, great roads, advancement in the infrastructure of the country, respect, cooperation of people with each other, the value of human beings, execution of the law, hard-working people, peaceful environment, and beautiful nature. During my stay in the US, there was nothing that I didn't like.

Question: What are the general living conditions for a woman in Afghanistan?

Answer: Just in the center of the Kabul City living conditions are good for some women, but life in rural areas is not so good. Freedom for women outside big cities is very little. Maybe 10% of the women in rural areas are independent and have freedom of action.

In rural areas, life is better for educated people. In general, life is okay in villages and small cities. Girls can now go to school the same as boys. Unemployment rate is pretty high for young people even in Kabul, but in rural areas unemployment is much higher.

Question: What factors does a woman have to overcome to start and run a company in Afghanistan?

Answer: If a woman decides to do business, she should be ready for many problems dealing with security, religion, family, regional concerns, and gender. Women have to overcome all the above problems in order to be successful in their businesses. Most women who start a business normally enjoy their husband's, brother's, and father's support.

Question: Under Taliban rule, what was your life like?

Answer: My family and I had a lot of problems at the beginning of the Taliban regime. My home tutoring practice didn't observe Taliban's regulations for separation of boys and girls. Later in 1998 I was forced to immigrate to Pakistan where I was constantly threatened to death by the religious hard liners. Eventually I was supported by the security forces of Pakistan and could have a safer life in exile.

Question: How has your life changed since the war?

Answer: After the fall of Taliban, some circumstances, including the establishment of my NGO have made great changes in my life. I started my own business through which I could educate thousands of Afghans. I could rub elbows with men to achieve the freedom of running my business and dive into the future.

Question: Are you living in greater fear of terror because you are an
entrepreneur?

Answer: Obviously, no life is without problem, but human beings have a great power of adaptation. We work hard to annihilate the dangers and the risks that we take every minute of our lives. Over the past four years, since I started my business, I have never been threatened for doing business per se.

Question: What would happen if America pulled its troops out of Afghanistan?

Answer: The US forces allied with the international peacekeeping troops are the major support for peace in Afghanistan. Without their active support, bloodshed will cover all the country and people of Afghanistan will no longer experience peace.

Question: What can someone who's just a "regular person" do to help your
country?

Answer: Anybody in any country can help his/her fellow human being. However, in an advanced capitalist country such as the US, entrepreneurs can greatly help the Afghans who are novices in investment. Americans can further provide social, economic, and humane support for Afghans. I need your support in order to better help the women in Afghanistan who are expecting my support.
---