Check out this excellent compilation of visualization methods called "A Periodic Table of Visualization Methods." This came to my attention via a convoluted path from BoingBoing (who thanks Mike Love) to Seth Godin to Acorn Creative. Ralph Lengler and Martin J. Eppler created it. You might also enjoy reading their paper, entitled "Towards a Periodic Table of Visualization Methods for Management"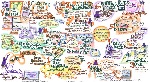 On a related topic, some people are lucky enough to have the ability to transform the spoken word into graphics in real time. I gave a speech to the International Coach Federation, and Martha McGinnis created this graphic representation of it. You may find this useful as a quick summary of my Art of Innovation speech (you can watch the speech online here). Here is Martha's chart in two sizes:
And I just found out about this mind map of the book at Anabubula.com.
---