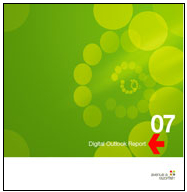 Avenue A Razorfish recently published the 2007 Digital Outlook Report (6230.6K). This report examines trends in the way consumers, publishers, and advertisers employ digital media to have a conversation with each other. Specifically, it covers the following areas:
Digital Buzz

Digital Media (R)evolution

Search

Consumer Dialogues: The Digital Class

Measurement

Op-Ed: What's on Our Minds?

Creative Considerations for 2007 by Jim Gibson

Why Authority Matters in Web 2.0 by Laura Porto

The Death of the Page View: How AJAX, RSS, and Widgets Will Force Us to Define a
New Metric for User Engagement by Garrick Schmitt

"We"conomics: Monetization of the Evolving Digital Economy by Greg Pomaro

The New (Media) World Order by Bruce Woolsey

Five Questions

Nathan Levi on Search Marketing

Iain McDonald on Viral Markting

Ray Velez on Windows Vista

David Baker on E-Mail Marketing

Olaf Czeschner on the Evolution of Digital Creative

Grace Ho on Mobile Marketing

Margie Chiu on Digital Strategy and Analytics

Five Things Every Executive Should Know About Digital in 2007
It's very useful reading for anyone involved with digital media, so check it out.
---