I am going to feature a Facebook app every Friday—"Facebook Friday." (An evangelist never rests.) Today's app is Celeb Heads from Fafarazzi.com.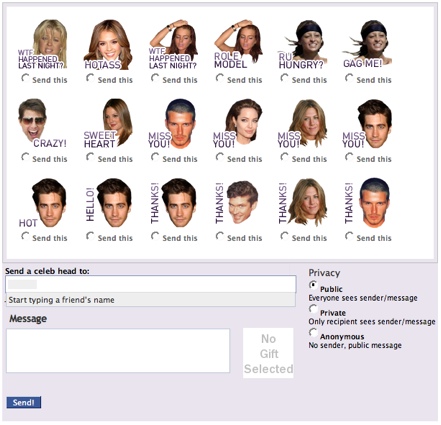 Celeb Heads enables people to send their friends free celebrity heads (also known as "fafa heads"). These heads mark a mood, attitude, event, trait, or feature of a friend. There are currently sixty-two different celeb heads with different themed messages ranging from "Hello" to "You need rehab." The celebs used so far go from Lindsay Lohan and Britney Spears to Jake Gyllenhaal and David Beckham.
You pick a celeb head, type in a personal message, and select your privacy option. The recipient will receive an email notification with a link to view their celeb head. The celeb heads will also be featured on his or her profile in the Celeb Heads profile box. Click here to install it. You may think this type of app ("Send celebrity heads?") is crazy, but this is the nature of Facebook apps, so we all need to get used to it. :-)
By the way, Fafarazzi.com is the celebrity gossip world's answer to Fantasy Sports. The site enables people to a create/join a league, invite their friends, and draft their team of celebrities. Celebrities are then measured by their publicity in the online entertainment/gossip world.