Saturday, January 12, 2008
I write this after a good night's sleep—the first I've had since December 29. That was the day that incumbent Kenyan President Mwai Kibaki announced victory in the country's elections and was sworn in as a nation listened, paralyzed with shock. Moments later, the radio system went dead. When broadcast resumed, it was to report riots, lootings, a rising death count, and huge numbers of people displaced as violent tribe-against-tribe attacks became an outlet for the betrayal and hopelessness so many Kenyans felt.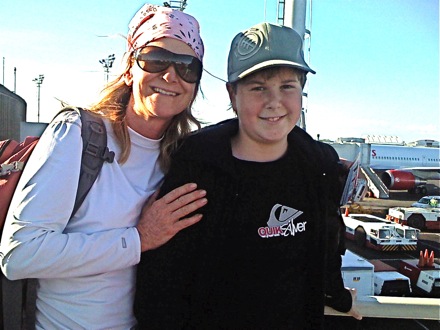 My son, Matt, age twelve, and I had arrived in Kenya two weeks before the election. It was my second visit; his first. We had come to Kenya to spend time at an orphanage, the Lewa Children's Home in Eldoret, and then to visit Eregi, a rural town that is both a hub of micro-entrepreneurship and the regional base of Village Enterprise Fund, a micro-granting organization I've supported for several years.
In the weeks before the election—peaceful, festive weeks, marked by political optimism and the cheer of the holiday season—Matt and I enjoyed a brief acclimation in Nairobi before getting hands-on at the orphanage. As we prepared to travel to Eregi on December 28, the day following the election, we heard the first rumblings of trouble. Gasoline was suddenly in short supply because deliveries were halted "to keep people in their precincts until the count is complete." We also heard of boxes stuffed with pro-Kibaki ballots, and of a surprising rate of voter turnout (115%) in several areas that favored Kibaki.
But we didn't feel concerned. Our Kenyan friends, educated, savvy people with a strong sense of responsibility for our well-being, scoffed at some reports, dismissed others as rumors, and never doubted a fair outcome to an election they believed would deliver both a new president and meaningful benefits to the Kenyan people. We headed west, excited about our plans for a six-day tour of rural microfinance projects and enjoying the winding, sunset-lit drive to Eregi.
Things did not turn out as planned. On December 29, as our host family and millions of their countrymen stood by their radios in disbelief, Kibaki's office announced victory and delivered a cold, hasty swearing-in that sealed the country's fate for the five-year term to come.
The repercussions began almost immediately in the slums of Kibera, the beaches of Mombasa, and countless cities and towns across the country. Riots, stabbings, lootings, and the torching of an Eldoret church where some fifty people, including children, sought refuge from the violence raging outside devastated the Kenya that we knew and loved. A friend texted me a rushed message saying that he was one of 20,000 people being emergency evacuated from Eldoret by the Army. He was one of some 250,000 people left homeless by riots or transported to neutral areas that offered some hope of safety.
Kenya was suddenly paralyzed by a cut-off fuel supply, very limited availability of phone credits, lack of cash access, and danger on the streets. In our village, we fell asleep—or tried to—to the sound of rage echoing through the valleys and awoke to escalating reports of resource limitation and approaching danger.
In the end, we got out. It wasn't easy. We drove to Uganda, got within sight of safety, but then turned back because of gunfire at the border. I pleaded with a charter pilot—begging him to meet us at the Kakamega landing strip. He was just a short way away, airlifting British and German aid workers out of Eldoret, but he feared potential danger at the small and unprotected strip. With an abrupt "click," he ended our call. Our host family pulled out every stop to negotiate a safe route to Kisumu, the nearest main airport, where we held paid airline reservations. Nothing, not even police escort, felt safe enough.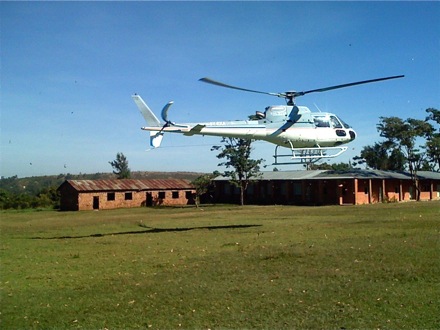 In the end, we found a helicopter pilot willing to take the leap of faith that he could find our landing site (a soccer field at a remote village school), that it would be clear, large and safe enough for him to land, that he would be able to get enough fuel for the flight and that we would, indeed, pay him after banking returned to normalcy. Fortunately, at this point, I was pretty damn persuasive, and the airlift service, Everett Aviation, was pretty damn wonderful. The sight and sound of that helicopter's landing and our friends waving goodbye are forever etched in my mind.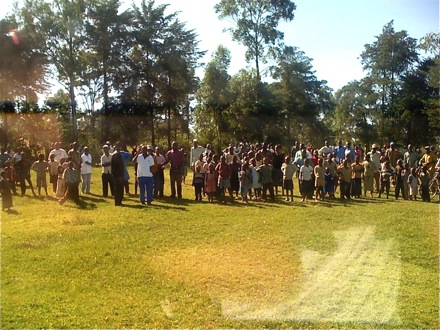 But that's just our story. It matters less than the stories of countless people who now must reshape their lives to the devastating changes they face in Kenya today.
Allow me to provide some examples. First, there's Carol, a willowy, confident young woman who serves as an interpreter for her extended family, many whom have been afflicted by congenital blindness and deafness. She uses a sign language that has evolved over generations, and with it she helps her siblings run a home-based knitting business that produces sweaters, hats, and other clothing items for babies and children. Carol planned to enter university in Nairobi this spring with the dream of studying special education. Her family's sustenance, and her educational options will be affected by Kenya's sudden plummet from stability, and these developments weigh heavily on her mind.
Next, there's Brian, a teacher, twenty-five years old, passionate about the chemistry, physics and biology. He teaches at a prestigious boarding school in Central Kenya. Brian's gift for bringing science to life made him a favorite teacher at this school, and he dreamed of inspiring one of his students to create or invent something that truly changes the world. Handsome, articulate, and creative, Brian comes from a minority tribe that factored prominently in the recent ethnic conflict.
The danger of going back to Central Kenya at this heated time left him asking: "Should I risk my safety and well-being to return to my job and students?" When I last spoke with him, the fear of violence had swayed him toward staying in his family's home rather than resuming teaching. He was devastated not to be there when his students returned to school.
Then, there's Winnie, who worked at hotel in Nairobi. She worked any shift she could during the brief days we stayed with her, being such a constant presence at the reception desk that I suspected she had an identical twin. Gracious and poised, she covered nights and days and never had less than a radiant smile to welcome her guests. Winnie lost her job yesterday. Her hotel is now nearly vacant—what businessperson or traveler would visit Nairobi now?—and along with twenty nine others who were let go, she now must try to find another job. But where? With tourism at a standstill, corporations re-evaluating their Kenyan presence, and much day-to-day commerce frozen as people await resolution of major political issues, where will employment come from?
Finally there's Phyllis. She runs a dairy, a boarding school, and an orphanage. She depends on a steady stream of volunteers, culled from an international network she's developed over decades, to assist her with teaching and caregiving. All of her recent volunteers have been evacuated from Kenya and those scheduled to arrive have cancelled their plans. Many of her teachers and students fear returning to hard-hit Eldoret, an epicenter of recent tribal conflict. Charitable funding once focused on her orphanage is now being distributed to a broader set of needs and emergencies.
How will she make ends meet, keep her children learning, and attract enough support to sustain her programs now that Kenya is a "high risk" country? Or her son Martin, a young father and former professional athlete, whose business—combining sports management, active tourism, and development of Kenyan athletic talent—was on track for profitability in 2008. What will become of his enterprise and the programs he has carefully developed over the past four years?
These stories are not isolated cases. Each of them represents untold thousands of individuals, people whose life course and opportunities have been slammed against a new, harsh reality: a country suddenly unstable and untrusted, a dream of African progress and promise gone awry. Tourism has screeched to a halt. Companies considering investment or manufacturing opportunities in East Africa report taking their development plans elsewhere. Step by step, layer by layer, these decisions will affect every man woman and child in Kenya, likely for years to come.
What can be done? The question is haunting and the answer evasive. And conditions are likely to worsen as the polarized "sides" of this political divide prepare their showdown—angry and in deadlock.
Answers are not likely to come at a policy level. But perhaps there is some hope at a "people" level. Microfinance organizations such as Kiva and MicroPlace have ways of reaching small business people in Kenya. Heifer International and Village Enterprise Fund, two agencies with established infrastructure in Kenya, will continue their entrepreneurial support there. Countless other organizations will have ways to provide support; if you know of any, I encourage you to share their contact information here.
In a crisis like this, in a country like Kenya, any small token of support can work wonders. Even if you don't support Kenya with your wallet, support it in your heart. Think of the highly-educated, industrious people of Kenya, half of whom are twenty years of age or younger, and of the hopes, security, and actual prospects that they have lost in the last two weeks. Imagine yourself, or your child, in a similar situation, and ask yourself what you would do. And what you would want others to do to help you through this time.
Whether you send a prayer or a wish or an even more tangible form of support, put yourself in their shoes. Use the freedom that you have—so similar to that which the people of Kenya truly believed was theirs—to wish the people of Kenya the safety and strength to survive what is likely to be a very hard times ahead.
Ellen Petry Leanse
Menlo Park, California