Spokeo finds information about your friends—long-lost or not—and then tracks their online activities as they make updates. These friends don't have to "invite" you, approve your friend "request," or be a member of Spokeo. Spokeo is able to, for example, monitor their Facebook notes and shares, YouTube videos, Amazon wishlists, Flickr and PhotoBucket photos, Pandora favorites, MySpace updates, Twitter tweets, personal websites, and blogs.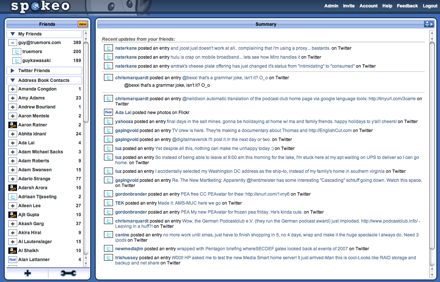 The Spokeo process begins with providing your address book; your name and password at social-networking sites; or the URL of your friends' profile, photo album, website, or blog. Spokeo then creates a "buddy list" of all the friends that it finds and displays them using a "reader-like" interface. The number next to each buddy's name indicates how many new entries Spokeo has found. When you click on buddies, you can see the details of their photos, videos, music, shopping lists, websites, and blogs. The sites and services that Spokeo supports are:
Amazon
Bebo
Blogger
Buzznet
dailymotion
deviantART
Digg
Facebook Notes & Shares
Flickr
Fotolog
Friendster
Hi5
imeem
Last.fm
LinkedIn
LiveJournal
MySpace
Netlog
Pandora
PhotoBucket
Picasa
PictureTrail
Slide
Stumbleupon
Twitter
Veoh
Vox
WebShots
Windows Live Spaces
Xanga
Yahoo! Videos
Yelp
YouTube
Disclosure: I am an advisor to Spokeo.
---