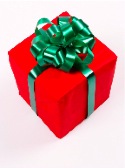 In the spirit of Christmas, this entry is dedicated to the gift of giving. I've come across a couple of very interesting ways to change the world through philanthropy:
First, Unitus. The purpose of Unitus is to fight global poverty by increasing access to microfinance. It accelerates the growth of the world's highest-potential emerging microfinance institutions (MFIs) by providing capital investments and capacity-building consulting—thus empowering these organizations to scale and provide life-changing financial services to dramatically more of the world's working poor.
It has a four-step approach that's modeled after venture capital (in a good sense!):
Selecting and partnering with the world's highest-potential emerging MFIs.

Structuring investments that enable MFI partners to create sustainable capital foundations.

Providing capacity-building consulting services to remove MFI partners' growth constraints and helping them become for-profit banks for the poor.

Exiting partnerships after MFI partners achieve scale and have the capacity and financing to support their continued growth.
Unitus has given over $1.2 million in grants, on top of
significant in-kind donations of technical training. In addition, Unitus
helps its partners build long-term relationships with international and
local banks by providing lines of credit, loan guarantees and other
financial support, totaling more than $4.1 million. Unitus has helped
arrange similar financial support of more than $500,000 through their
strategic partner, the Dignity Fund. The Unitus Equity Fund has also
invested more than $1.76 million in Unitus MFI partners.
In total, Unitus has provided or been instrumental in helping its eleven
microfinance partners access more than $7.65 million in growth capital
over the last five years.
Click here to help Unitus.
---
Second, Network for Good. This organization brings together donors, volunteers, and charities online to accomplish good. The organization enables people to donate to more than one million charities and search from among more than 36,000 volunteer opportunities. Think: "Amazon for charities."
Since its inception in November 2001, more than 430,000 people have donated more than $100 million to over 20,000 charities through Network for Good. Another 232,555 people have found volunteer opportunities through Network for Good. We've also helped more than 6,000 nonprofits raise funds, cultivate donors and recruit volunteers through our online tools.
The organization provides a cool widget that enables sites to raise money for their favorite charities. Check out the widget here.
---
Third, the Fistula Foundation. This is an organization that my wife and I support. An obstetric fistula develops when blood supply to the tissues of the vagina and the bladder (and/or rectum) is cut off during prolonged obstructed labor. The tissues die and a hole forms through which urine and/or feces pass uncontrollably. Women who develop fistulas are often abandoned by their husbands, rejected by their communities, and forced to live an isolated existence.
Eradicated in western countries at the end of the 19th century when cesarean section became widely available, obstetric fistula continues to plague women throughout the developing world. It is estimated that there are 100,000 new fistula cases each year, but the international capacity to treat fistula remains at only 6,500 per year. The United Nations Population Fund (UNFPA) estimates the world's population of fistula sufferers at more than two million.
The WHO has called fistula "the single most dramatic aftermath of neglected childbirth." In addition to complete incontinence, a fistula victim may develop nerve damage to the lower extremities after a multi-day labor in a squatting position. Fistula victims also suffer profound psychological trauma resulting from their utter loss of status and dignity.
Click here to help the Fistula Foundation.
---
Finally, in the process of writing this entry, I came across an interesting report called Activation Point. It is an analysis of the best practices of persuasion and is tailored to the unique needs of social change organizations. However, I think it's very applicable to both not-for-profit and for-profit organizations who want to persuade customers.
---