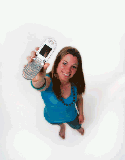 This is a video of a Churchill Club panel (9/20/06) that I moderated called Next Generation Insights. It featured six Silicon Valley young adults whose ages ranged from fifteen to twenty four.
These are some factoids that I found interesting:
Here's a good analysis of the panel. The bottom line message is that before you waste your marketing dollars, you should watch what the panelists had to say about these topics:
When I asked how advertisers can get to them, there wasn't a lot of good news. Product placement may work if it's subtle (specifically in The OC, Tivo be damned), but it sure appears that most forms of digital/online advertising are dead in the water for reaching young people. This is a whole new world…
---
One panelist's mom followed up with me and gave me this list of the sites that her daughter visits:
To put it mildly, I didn't exactly have these bookmarked or in my RSS feeds. :-)
---
One more interesting point that has nothing to do with the panel. Note how useful it is to have tags in a video like this— that is, the difference between Veotag and GoogleVideo.
---