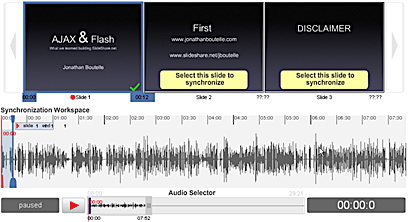 Slidecasting by SlideShare.net enables you to synchronize PowerPoint slides and audio files. To create a slidecast, you upload slides to SlideShare.net. The audio file is hosted anywhere on the web. Then you link the slides and audio by using an online synchronization tool. When you play the slidecast, the audio is streamed from its location and plays with the slides. The service is completely free.
Here's a good example of a finished slidecast—not exactly a business example, but very cute. And here's presentation guru Garr Reynolds using it too.
---
---
Disclosure: I am an advisor to Slideshare.net.
---