We've begun testing Truemors For Friends (TFF), and we could use some outside testers. Our Facebook version enables you to spread news, rumors, and gossip within the Facebook community. You can also share pictures, and links with your friends and see their pictures in each posting and comment.
TFF is very different from Truemors.com. Our site is for you to "tell the world," so if you post something at Truemors.com, anyone with a browser can read it. With Truemors.com, our intent is to spread information as far and wide as possible.
By contrast, TFF is for you to "tell your friends." You can post something that only your friends can read and discuss. In fact, you can get even more specific: Selecting just a few of your friends.
Logically, when you post something on TFF it will not appear on Truemors.com. Postings from Truemors.com, however, appear in an RSS feed window on the TFF canvas.
Here's how to get started with TFF:
Sign-in to your Facebook account.

Go to Truemors for Friends and click on Add Application.

Click on Add Truemors.

Click on Edit next to the list of applications.

Drag the Truemors logo higher to make it visible in your list of applications.
Here's an example that illustrates the power of TFF. Suppose that you wanted to spread a truemor about Will and notify Tom, Kate, and Sally. And you wanted only Will, Tom, Kate, and Sally to read the truemor — not all your friends nor all of Facebook.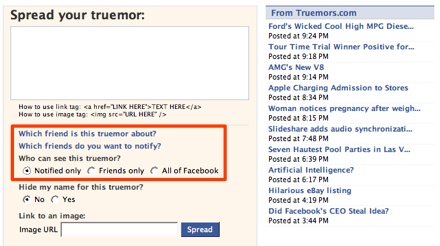 Find Will by clicking on Which friend is this truemor about?

Find Tom, Kate, and Sally by clicking on Which friends do you want to notify?

Select Notified Only below Who can see this truemor?

Click on Spread and only Will, Tom, Kate, and Sally will be notified and be able to see this truemor.
Thanks for your help. I'll make a formal announcement when we release Truemors For Friends.