A buddy of mine found three cool inventions to share with readers of my blog. These inventions can change the world and illustrate how much can be done with innovative thinking.
Pot-in-pot. This is the invention of Mohammed Bah Abba of Nigeria. He is from a family of pot makers and discovered a way to preserve food despite in the country's high temperatures. One earthenware pot is place within another, and the space between the two is filled with sand. Users add water to the sand, and when this water evaporates, the inside pot is cooled.

Q-Drum. Hans Hendrikse invented this apparatus to enable people in Africa to transport fifty liters of water in a safer, easier, and more hygienic way. Rather than carrying water on their heads, now they roll it along in a drum made of low-density linear polyethylene.

Eco-nightclub. An eco-nightclub opened in London near King's Cross. It contains a dance floor that converts the up and down motion of dancers to electricity. The process is called piezoelectricity.
I hope that these ideas inspire you to create inventions like this too. Thanks to Thomas Kang for the idea to do this blog entry.
---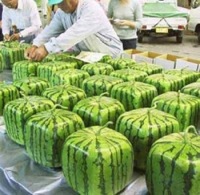 Kathy Kruse also pointed out the "Lessons of the Square Watermelon." You'd probably find this interesting too.