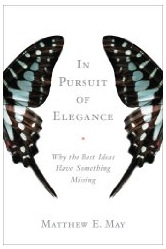 I interviewed Matt May, author of In Pursuit of Elegance: Why the Best Ideas Have Something Missing
, about the topic of elegance. He says that the four qualities of elegance are: symmetry, seduction, subtraction, and sustainability. If you're interested in creating elegant products and services, you'll find it very interesting. Check out the interview here. Please mark it "found useful" if you did.
---
More on elegance and design at Design.alltop.