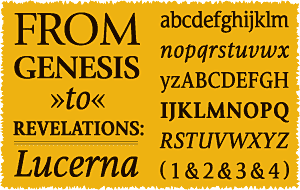 Here is the story of Lucerna, designed to make the Bible printable on fewer pages for Tyndale House Publishers.
Then check out this interesting blog about design by the creator of Lucerna. It contains the best definition of design that I've ever seen:
Design consists of creating things for clients who may not know what they want, until they see what you've done, then they know exactly what they want, but it's not what you did.
By the way, this is what it's like to blog while in Alesund, Norway. :-)