Zody Chair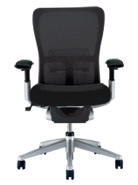 First, the kind folks at Sit4Less sent me a Haworth Zody. It is the most comfortable office chair that I've ever used. You can tweak it in more ways than an open-source SQL database. If anything, it's so supportive that you'll sit too long and blog too much!
Valet

Second, Valet is a Macintosh utility that records the applications that you use and provides quick and easy access to them. Since I started using it about six months ago, I hardly use Apple's Dock. Check it out if you want to organize files and applications in folders.
The Big Curmudgeon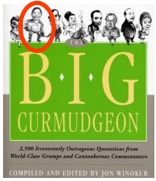 Third, my buddy Jon Winokur, antagonist of France and America, just came out with another great collection of sarcasm and wit called The Big Curmudgeon: 2,500 Outrageously Irreverent Quotations from World-Class Grumps and Cantankerous Commentators
. If you want many good chuckles, get this book.
Jon even interviewed me and put a caricature of me on the cover, so I have "arrived." Speaking of arriving (and self-flattery). I was in the Denver airport the other day. This college-student age looking woman gets out of her seat and gives me her cell phone, so I immediately start hallucinating: "She's recognized me, so she's going to show me that she's reading my blog. Or, she wants to show me an email where someone has sung my praises to her."
I read the draft text message that's on her phone, and it said, "Your zipper is down, and I thought I would tell you." How funny is that? Almost as funny as my Jackie Chan story.
---