The first time I had to park this car, I was behind a Suburban trying to get into a lot near Moscone Center. The attendant made the Suburban leave and then said to me, "There's no room in here for a Suburban, but there is for you."
Score one for the Honda Fit. It was the beginning of a good relationship.
Honda designed this car for the crowded streets and high gas prices of Japan. This class of car, between twelve and fourteen feet long, is called a "subcompact B." The Fit is very successful in Japan and Europe where it has been available for several years. Honda recently introduced it to the American market with a high level of standard equipment.
The EPA mileage estimates for the automatic sport model are 31 mpg city and 37 highway. A Fit costs about $17,000. For this amount of money, you get a surprising amount of features:
100,000 miles to the first major tuneup
AM/FM/CD player with MP3 auxiliary input jack (optional iPod link available)
Air conditioning
Drive-by-wire throttle control
Paddle-shift automatic transmission
Power windows, locks, and mirrors
Five-door hatchback
Front and side airbags
Passenger-side occupant position for front airbag
It's not exactly a chick or dude magnet, but it's not an embarrassing econobox either. Plus, what do you expect for under $20,000? It is enormously practical and somewhat cool—perfect for the pre-funded Web 2.0 entrepreneur or someone who can't get a job interview at Yahoo! :-)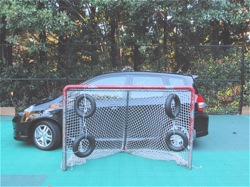 The car is not very long. This is a Fit behind a hockey goal…which, in case you didn't know, is four feet tall and six feet wide.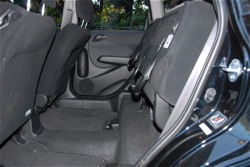 The car's strong point is the flexibility of its seats. For example, you can fold up the rear seats to get a large vertical space. I don't know of another car where the second row seats fold up like this.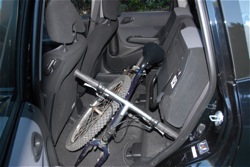 This is an adult mountain bike in the space behind the front seats.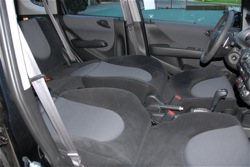 Even more interesting, you can fold back the front seats, and they fit flush to the rear seats. This makes a long reclining space for two passengers.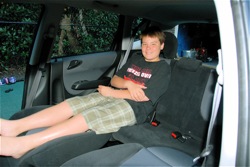 For example, this boy is 5′ 4″ and 140 pounds. He's sitting on the cushion of the back seat with his legs on the reclined front seat.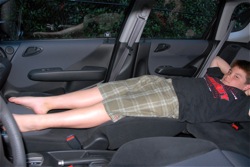 He can also lay down completely.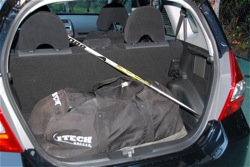 An important test for me was whether it could hold five people and a hockey bag and stick. No problem.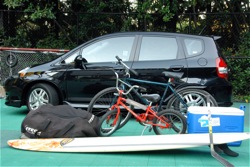 I kept loading things into it, and I was able to get all this stuff into the car: one adult mountain bike, one kid's bike, one 8′ 4″ SurfTech surfboard, one large cooler, one fully-loaded hockey bag, and one hockey stick. I was amazed.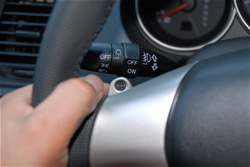 The Fit has cool paddle-shifters for the transmission. This is as close as I'll ever get to a Ferrari, I'm afraid.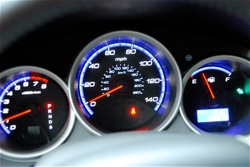 The gauges are a lovely blue color.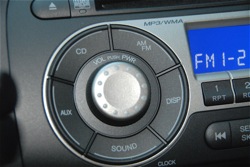 This is the dial to control the audio. BMW owners: Eat your heart out. You don't need a manual and night school to figure out this interface.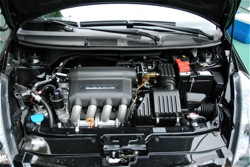 This is the car's 109 horsepower, 1.5 liter four-cylinder engine. You won't win any drag races, but it's plenty peppy enough for city driving. Actually, it's fun to drive in a "I don't need a German car to prove I'm cool" way.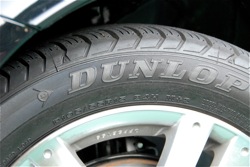 195/55 R15 all-season tires. Remember when a 55 series tires was considered the hot profile for a sports car?
My experience with the Fit started well at the Moscone parking lot, and it also ended well on the day I returned it when a college kid told me how cool he thought it was. Would I buy it for myself? Maybe, if it's a third car: first car: minivan for eight people; second car: sports car for two people; third car: Fit for banging around town, leaving at the airport, going to somewhere that I know won't have lots of parking. :-)
It's certainly a great college car, and I would absolutely buy it for my kids.
If you'd like to buy a Fit, you can contact my buddies at Capitol Honda in San Jose. You can reach them via email here. If you're not in the Bay Area, Capital Honda is part of UnitedAuto which owns 277 car franchises around the world. This includes twenty Honda dealerships in the United States, so they can take care of you in many parts of the country.
---