Halo 3 shipped on Monday at midnight, and there were launch parties at Microsoft campuses around the country. These are pictures from the Mountain View, California location.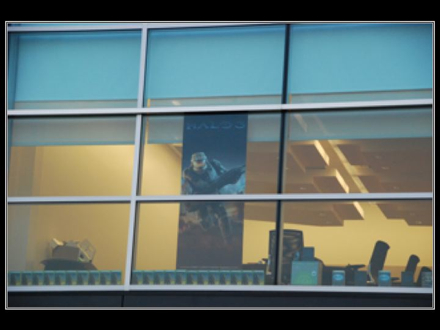 This is the registration line. Yes, that's Robert Scoble standing in line like any schmo.
Scobleizer with his five cameras.
He thinks his Canon 5D is better than my Nikon D40x.
Unloading inventory for the Microsoft employee store.
Jas Sandhu, the Microsoft evangelist that invited me and Team Truemors.
Microsoft's living room of the future.
Guitar Hero players.
The food spread.
Including exotic hamburgers.
Special edition Mountain Dew.
Blake Commagere, the author of the Facebook app called Zombies. Two guys in a garage with 4.5 million downloads.
Eric Wu of Emotioneric. Another great app that I can't figure out.
I don't know who she is, but she wins style points.
Action in the main gaming room. There were tables set up with three flat-screen monitors, three xBox 360s, and twelve controllers.
There was a single-elimination tournament. D2 = Team Truemors.
Our team in action.
The other team in action. Notice the frantic motion compared to the collective cool of Team Truemors.
A little adjudication about the final round. That's Jason Mauer, league commissioner.
The second-place team. A fine bunch of fellows but second-place finishers nonetheless.
Yeah, baby, the winning team. Limited edition Halo 3 was the prize.
Winner #1 of an xBox 360.
Winner #2 of an xBox 360.
Winner #3 of an xBox 360.
And the big loser of the night: Anthony Nemitz of eBay. He could have won an xBox 360 when his name was called, but he was downstairs drinking beer.