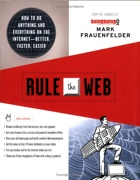 Would you like to rule the web? Mark Frauenfelder's new book will help you do exactly that. I thought I knew about most of the cool stuff on the web, but thirty pages into this book it was clear to me that I was deluding myself.
Mark is the founding editor of BoingBoing.net and editor in chief of Make. His book is called Rule the Web
. Here are ten things that I learned about by reading it. I am sure you will discover many useful and cool tips in this book. He's got a blog to keep up to date too.