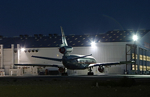 It's 10:30 pm, and I'm sitting on a baggage cart on the tarmac of the Monterey, California airport. My U. S. Airways flight was set to depart and then an engine warning light went on—this was two hours ago. The reason we're all on the tarmac is that a fire alarm went off, so we had to evacuate the terminal.
Still, this is better than the last time I flew on U. S. Airways. That time the one of the plane's engines died, and we made an "unscheduled stop" in Kansas City and then had to wait four hours for another plane to fly in. What's all of the got to do with this entry? Nothing except that I've had two hours to compile a short list of cool stuff.
It's been one of those days. This afternoon I spoke for my buddies at Cisco. Just before the speech, I discovered that the recently dry-cleaned pants that I packed were my son's, not mine, so I had to give the speech wearing jeans. One high point: Reggie Jackson was on the flight too, but he left after two hours of waiting. He was giving out autographs—though he didn't ask me for mine. :-) If I get to Las Vegas anytime soon, I'm speaking for the Entrepeneurs' Organization.
Incidentally, this is a stock photo, not the MRY terminal, from iStockphoto by "Sparky2000."