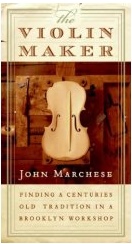 I grant you that I know very little about music. The most I can say is that my parents named me after Guy Lombardo (I consider myself lucky because they could have named me after Guy's brother, and I would be "Carmen Kawasaki.") That said, I declare this "Violin Monday" for two reasons:
---
First, I read a great book called The Violin Maker
by John Marchese. This is the story of how Sam Zygmuntowicz made a violin for Eugene Drucker of the Emerson String Quartet. The book is a rich description of the work of a craftsman peppered with information about the history of violin making and the musicians who played them.
If you are a John McPhee fan, you will love this book. McPhee is the only person I know who can write a book about oranges
or one tennis match
. It's a stretch to say that reading this book will help you start a Web 2.0 company and sell it to Google, but it will greatly enhance most people's understanding of craftsmanship. Another book that I would recommend if you want to understand craftsmanship is Uncommon Genius
by Denise Shekerjian.
---
Second, my friend Pam Chun of Hawaiian Islands Ministry pointed out a story in the Washington Post called "Pearls Before Breakfast" by Gene Weingarten. I nominate this for the most interesting newspaper story of 2007. Basically, the Washington Post convinced a world-class violinist named Joshua Bell to act like a street musician to see how many people would stop to listen to him play and how many would donate money.
He would play his $3.5 million violin made by Antonio Stradivari in 1713. It must be a helluva of violin because it has a name: "Gibson ex Huberman." The Violin Maker is filled with stories of how violins come to be named, by the way. (Should I give my MacBook Pro, made by Steve Jobs circa 2006, a name?)
Bell played pieces like "Partita in D minor for solo violin," the Johann Sebastian Bach composition. To summarize: this experiment involved a world-class musician playing Bach on a Stradivari in a Washington D.C. Metro station at 7:51 for forty-five minutes one Friday morning while approximately 1,097 commuters walked past. Before I tell you the results, take this test:
The answer is that he went unrecognized and unrewarded. What does this mean? Maybe that people make assessments about quality based on context and the rest of the herd. (The Violin Maker mentions a story, perhaps apocryphal, about how another world-class musician played a concert with a cheap violin, and the audience had no idea that he did so.) Or, maybe it illustrates what happens to people who are around politicians, lobbyists, and lawyers all the time…
If anyone from the Washington Post reads this, I have two suggestions: First, take a so-so violinist, hand him a Stradivari, introduce him as a wunderkind from the Black Forest, let him play as the opening act at a ritzy concert, and see if the audience fawns over him.
Second, get Steve Jobs to sell iPods for forty-five minutes in a BestBuy in South Dakota and observe what happens.
The lessons that I gleaned from this story are:
Don't let the absence of trappings and popularity make you believe something is bad.

Don't let the presence of trappings and popularity make you believe something is good.

Don't pass by life much less let life pass you by.
---