Have you ever cleaned out the pockets of an old pair of pants and found a couple of twenty dollar bills all crumpled up, just waiting to be spent? Sometimes you can get the same feeling by receiving an unexpected email. For instance, a few weeks ago someone from Audi USA sent an email to ask if I'd like to test drive the new Q7 SUV for a few weeks.
Does a bear shiitake in the forest?
One of my goals with my blog is that people will never know what to expect when you come here. I'll cover stuff from adoption to VOIP to the lies of VCs. This is a first: an automotive review.
I feel a kinship with Audi because it is the Apple of car manufacturers: great products, small market share, and a history marred by irrational scares ("unintended acceleration" and "Apple's going to die"). Buying some German cars shows how much you make. Buying some computers shows…well, let's not go there. Buying an Audi or a Macintosh shows how much you know.
I'm not an automotive journalist–nor an automotive photographer as you shall see. But, I do love good engineering and design. Here are my top ten favorite features of the Q7.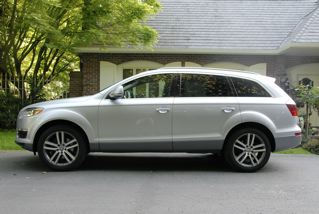 1. I've owned several SUVs. They all felt tippy–seeing some flip over in news programs certainly didn't help. It's physics, right? The Q7 decouples sitting high and feeling like you're going to tip over. And it's also got permanent all-wheel drive ("Quattro"). If I were in charge of Audi's marketing, I would focus on the concept that Audi is the German car manufacturer with all-wheel drive. Very reassuring.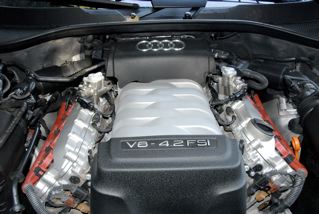 2. Most SUVs make one of two kinds of engine sounds: whining as in "I'm about to get a hernia" or choking as in "I'm going to asphyxiate." Not a Q7. This thing growls. I guess a 4.2 liter V8 will do that. I guarantee that no one is going to hear a Q7 and think, "Soccer mom." Very macho.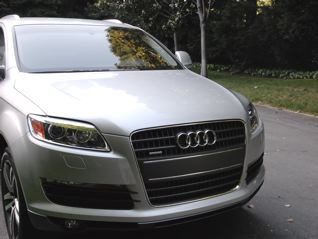 3. It has a grille/front end design that is menacing–"animalistic" is another good word to describe it. No one is going to see you in the rear view mirror and wonder if he should let you pass. This is the best external view of the Q7, and it sets the Q7 apart from it's relatives: the VW Touareg and Porsche Cayenne. Very macho again.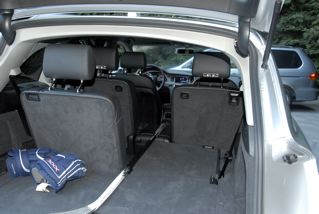 4. Let's review: we are sitting high in an SUV that isn't tipping over with an engine that growls like a sports car with a grille that would scare an enforcer. To this mix, you now add the fact that it can hold six or seven people. And everyone has a real seat. Six as in husband, wife, plus four kids. Very necessary.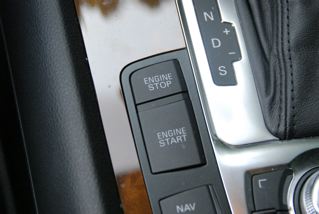 5. The Q7 has a key that doesn't have to be inserted into the ignition to start the engine. Nor do you have to press the alarm button in the remote to unlock it. The car senses when the key is close by and unlocks the doors. To start the engine, you push the "Engine Start" button. I know that even a Prius has this, but it's the first car I've driven with this feature, and I just loved it. I'm going to truly miss this feature when I give the Q7 back. Very thoughtful.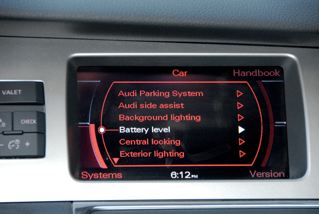 6. The Q7 has a relatively intuitive user interface for accessing the features of the car like ride height, tire pressure checker, radio, seat heater, etc. (I once rode a 7 series BMW for forty five minutes and couldn't figure out how to increase the volume of the radio. Admittedly, this was a while ago and apparently the UI is much better these days.) Very easy.
6a. By the way, you can integrate a Bluetooth cell phone into the sound system. Very nice.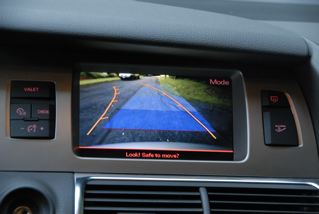 7. When you put the Q7 in reverse, there's a camera that shows what's behind–e.g., one of your four kids. No big deal: our Honda Odyssey and Toyota Sienna both have this. But the Q7 shows where you'd go based on how the front wheels are turned. This makes you want to drive in reverse more. Very cool.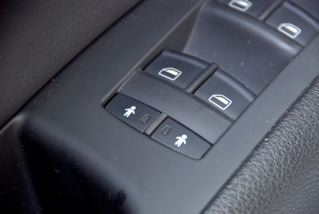 8. You can separately control child locking on each side of the car. So if your teenager sits on the right side and your nine-year old sits on the left side, you can child lock just the left side. This lock controls doors, windows, and rear air-conditioning controls. Very flexible.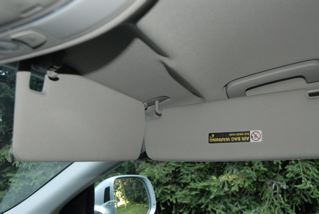 9. There are two visors each for the driver and front passenger. This means you can block the glare in front of you and on the side of you. I must admit that there have been times when the road is switching back and forth so two visors would have been a good thing. Very thoughtful again.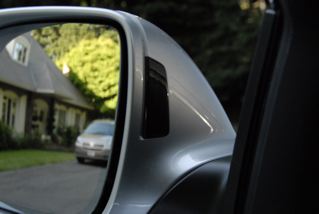 10. There's a "side assist" radar system. When there is a car in or rapidly approaching your blind spot on either side, yellow LEDs in the black trapezoidal area turn on to warn you. I don't know, though, if one should break the habit of actually looking behind before switching lanes. Very useful.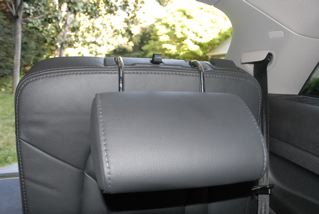 11. We can fold down the third row of seats in order to increase storage space in both our minivans. However, one must manually lower or remove the headrests. The Q7's headrests automatically fold down when they make contact with the seat back in front of them. Very clever.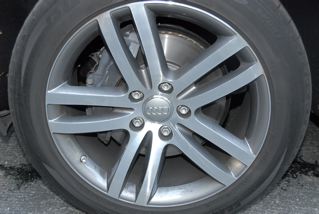 12. I doubt that Audi planned it this way, but the color of the wheels is approximately the color of brake dust. I know: "Guy, you should be so lucky that that's your biggest problem," but I hate dusty looking wheels. Very unplanned.
I said this is would be a top ten list, and I have also not mentioned any negatives. So here are two:
-1. As far as I can tell, you can't get a factory-installed DVD player for the back seat passengers. The first thing my son asked when he got in the Q7 was whether it had a DVD player. This is a serious omission for drivers with kids. Very unfortunate.
5/1/06–Audi told me that there will be a DVD option by the third quarter of 2006.
-2. I have come to love the XM satellite radio in our Odyssey. (It's like having an iPod in the sky except the RIAA won't sue you for using it.) The Q7 has Sirius. For where I live, I guess XM reception is much better than Sirius. To wit, the second question my son asked was, "Our Odyssey has satellite radio too–why doesn't it cut out all the time like this?" Very nothing–I guess it depends on satellite coverage where you live.
Basic price and specs
Q7 4.2: Premium $59,900 starting price. (This is the one with all the cool stuff.)
350 horsepower, six-speed transmission, Quattro all-wheel drive.
Seats six with second row center console or seven without.
Curb weight: 5,467 pounds
Fuel tank capacity: 26.4 gallons
Powered by Qumana