The proliferation of topics from twenty to 215 made a redesign of Alltop necessary for efficient navigation. The three primary enhancements to the site define version 2.0 of Alltop:
Ability to find topics in three ways: searching by keyword, viewing by category (for example, Tech, Sports, People), and viewing by topic name.

Addition of 200 new topics to bring the current total to 213 topics.

Display of the topics that people have recently viewed.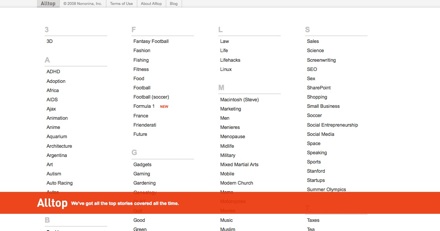 Version 1 home page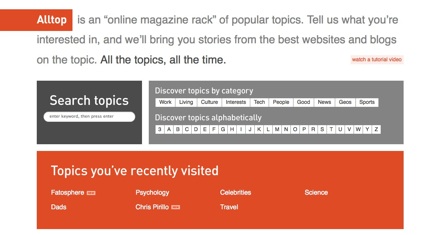 Version 2 home page
All the development work was done by the amazing folks Electric Pulp. I don't know why I tell you who they are because they're always booked, but you'll be amazed at their work if you can hire them.
Update and Background
Age of site: 180 days

Total page views: Over five million

Total number of topics: 213
Alltop has come a long way in six months, and some of the key stats are above. We've finally figured out how to explain it with this text. If you're not into text, try these two diagrams by Dan Roam: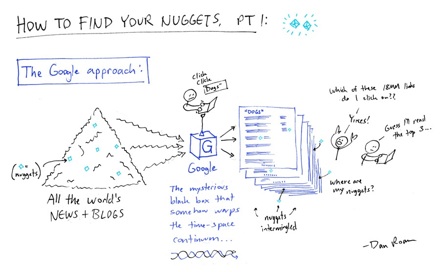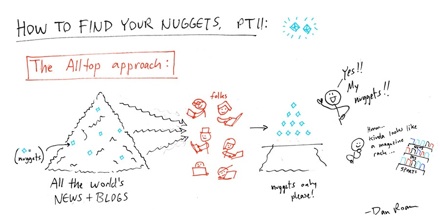 Click here for a larger version of these diagrams.
Recently, the great folks at Atelier Transfer created what I think is the best tutorial video in the history of mankind. You may recognize this style of video–these are the folks who did my StartCooking debut as a chef.
What Others Have to Say
Microsoft, the first advertiser on Alltop, had this to say, "Alltop is one of the most useful sites on the web, and for companies interested in reaching customers, among the most effective. For Microsoft, one ad on the Mac page of Alltop is like taking out dozens on targeted sites and blogs. Alltop should be the first stop for advertisers needing to reach a wide variety of targeted customers." Sheridan Jones, director of marketing, Macintosh Business Unit, Microsoft.
In particular, marketing professionals are finding Alltop valuable: "Alltop has already leapt into being a go-to source for finding blogs within specific topics. I instruct PR and marketing professionals looking to find great blogs in various verticals to check Alltop first before looking elsewhere. What were we doing before?" said Chris Brogan, a social media advisor.
But the best testimony is an email I got this weekend:
Dear Guy,

Leave it to you, your Alltop's autism web page is the best information resource on autism I've ever seen. Bravo.

Thank you for showing the world that excellence has not been forgotten.

My six-year-old granddaughter whom we just adopted has autism, and I cannot tell you how out of kilter the world appears from my perspective.

I have been her full-time nanny for over three years and finally had to dissolve my startup's corporation in February but she just started kindergarten. So a great deal of progress has been made in those three years (she was completely non-verbal at age 3.5).

The autism site's only flaw is that the quantity of helpful and relevant information might very well overwhelm most parents trying to make sense of it all. As a gesture of my appreciation, I sent Alltop a suggestion for improving their site (bulleted summaries similar to those at the top of cnn.com articles in the popup windows).

Oh yes, I read The Art of the Start a few years ago and it's great too. But for me, the Alltop autism page makes more "meaning" than your book. :-)
It can't get better than that. Alltop is the most satisfying work I've done since Macintosh because site owners and bloggers are jazzed to be part of Alltop, and people tell us all the time how useful the topics are.
A Sampling from A to Z
Opera (the browser)