Reality Check
If you use "partner" as a verb, and "strategic" describes decisions and activities that don't make sense, it's time for a reality check. This book is a compilation of Guy's best wisdom, wit, and contrarian opinions in handy book form.
From competition to customer service, innovation to marketing, he shows readers how to ignore fads and foolishness while sticking to commonsense practices.
This is a sampling of the Reality Check's topics:
How to get a standing ovation
The art of schmoozing
How to create a community
The top ten lies of entrepreneurs
Everything you wanted to know about getting a job in Silicon Valley but didn't know who to ask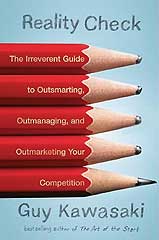 Reviews
Read what Amazon customers had to say.
Buy
Here's where you can buy Reality Check: