Rules for Revolutionaries
Rules for Revolutionaries explains how to create products and services and introduce them to the marketplace. The intended reader is anyone who wants to catalyze innovation and change. Many large companies have used the book to re-energize their product development and research functions.
Here's what the experts said about the book:
"The most original, readable, and useful guide to success in business that I've read…Rules for Revolutionaries will become the anthem of our time." Ben Rosen, chairman of Compaq Computer Corporation
"Rules, which teaches would-be innovators how to expand the status quo and succeed in the process, is an easy and entertaining read full of commonsense guidelines, mind-expanding exercises, and down-to-earth aphorisms." Business 2.0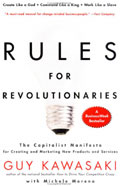 Reviews
Read what Amazon customers had to say about the book.
Buy
Here is where you can buy Rules for Revolutionaries: