The Macintosh Way
The Macintosh Way is the first book that Guy wrote. At the time, he had just left his position at Apple, so this book offers an insider's perspective of the Macintosh Division.
The gist of The Macintosh Way is that to change the world, you need to do the right things the right way. This book explains this orientation to work and how to make it work.
This is what the experts said about the book:
"Forget In Search of Excellence, forget The Management Secrets of Attila the Hun. Get attuned to The Macintosh Way." San Jose Mercury News
"A thoroughly entertaining and thought-provoking book. It is a refreshing inside look at the values that produce great products." John Warnock, CEO and chairman, Adobe Systems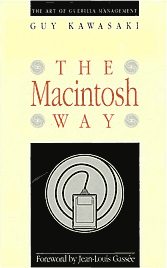 Reviews
Read what Amazon customers had to say about the book.
Buy
Here's where you can buy The Macintosh Way:
Free Download
Guy has made The Macintosh Way available for free in a PDF format: